1st Day Resutls – National Championship Adult Male/Female 2019
1 min read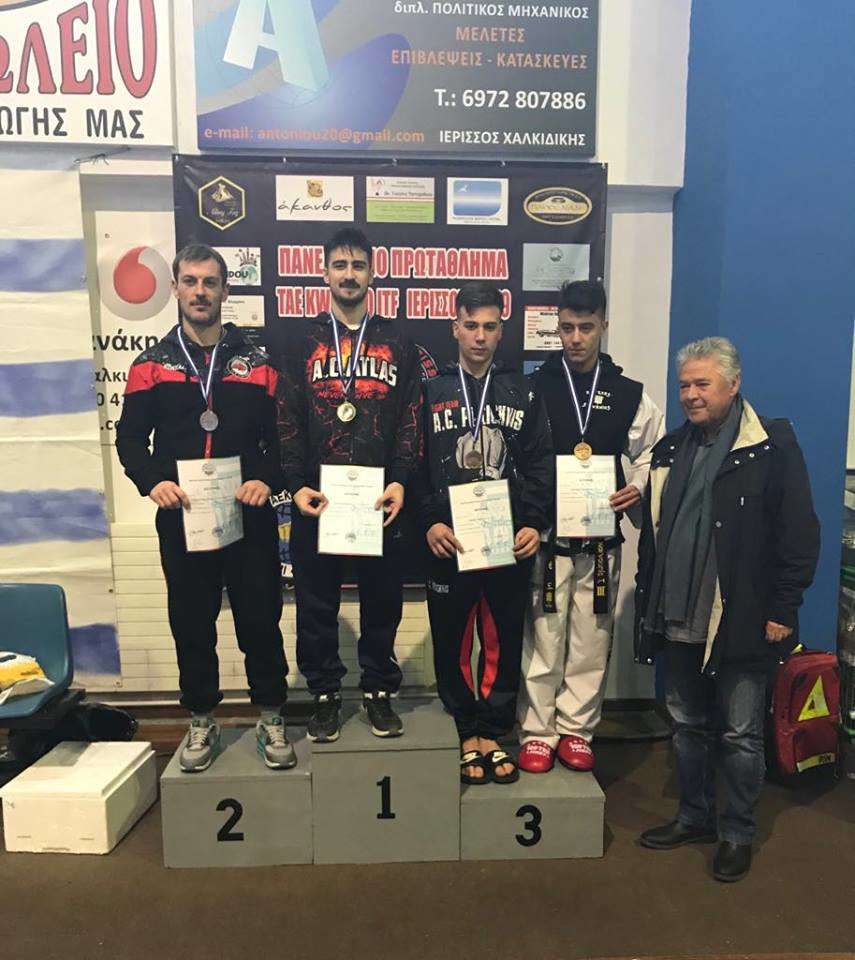 The first day of National Championship Adult Male/Female held successfully in Ierissos – Chalkidiki on 26th-27th January 2019.

High technical content and strong matches were the main features of the races. Indicatively the Clerk of the championship and Mr. Papadopoulos Pantelis says:
As an old athlete, I have to admit that the level in the Greek Taekwon-Do has gone up a lot. Every year young athletes with appetite and great talent are emerging champions, which proves the hard work they make to their clubs.

Yesterday with the Adult Male categories impressed everyone, I hope that the same thing happens todaywith the Adult Female catgories.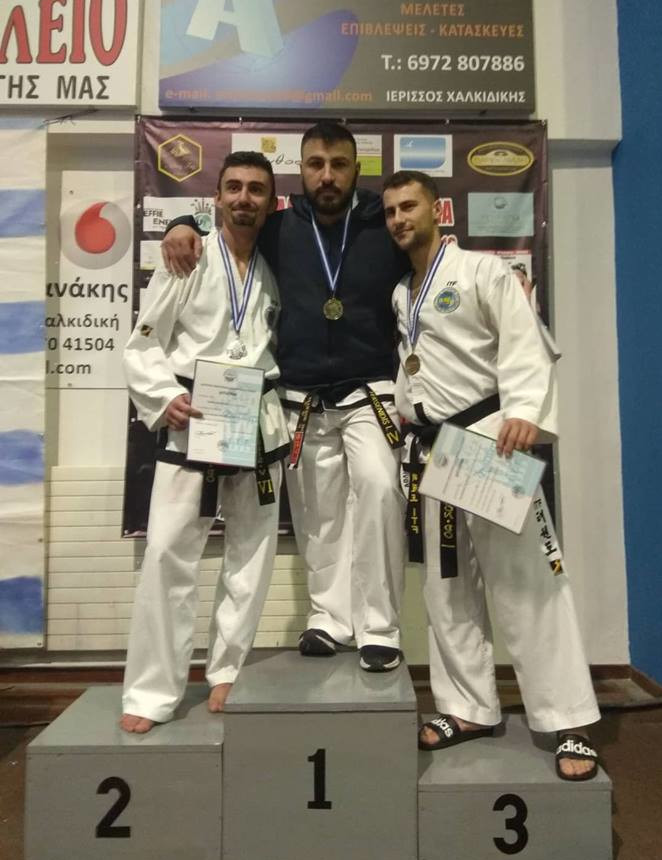 Below you will find all the results in detail.

Individual Pattern Adult Male I Degree
1st Deligiannidis Anastasios (A.C. Lefkos Pyrgos)
2nd Marinis Stylianos (A.C.F. I Nea Smyrni)
3rd Tzekakis Antonios (A.G.C. Martial Arts Diomidis) & Giannikouris Spyros (A.C.Akropoli)
Individual Pattern Adult Male II Degree
1st Netkidis Konstantinos (A.C. Polichnis)
2nd Lazaridis Georgios (A.C. Akropotamou Axios)
3rd Bantis Achilleas (A.C. Proteas Ioanninon) & Spanos Christos (A.G.E.M.S.TH. O Aiantas)
Individual Pattern Adult Male III Degree
1st Simonidis Georgios (A.C. Atlas Thessalonikis)
2nd Kokkalas Panagiois (A.C.F. I Nea Smyrni)
3rd Tzanidis Andreas (A.C. Polichnis) & Karvounis Triantafyllos (A.C. Zeas)
Individual Pattern Adult Male IV Degree
1st Tsairelis Vasileios (A.C. Olympismos)
2nd Danos Vasileios – David (A.G.C. Axion Peiraios)
3rd Markokonstantinos Andreas (A.G.C. Keratsiniou)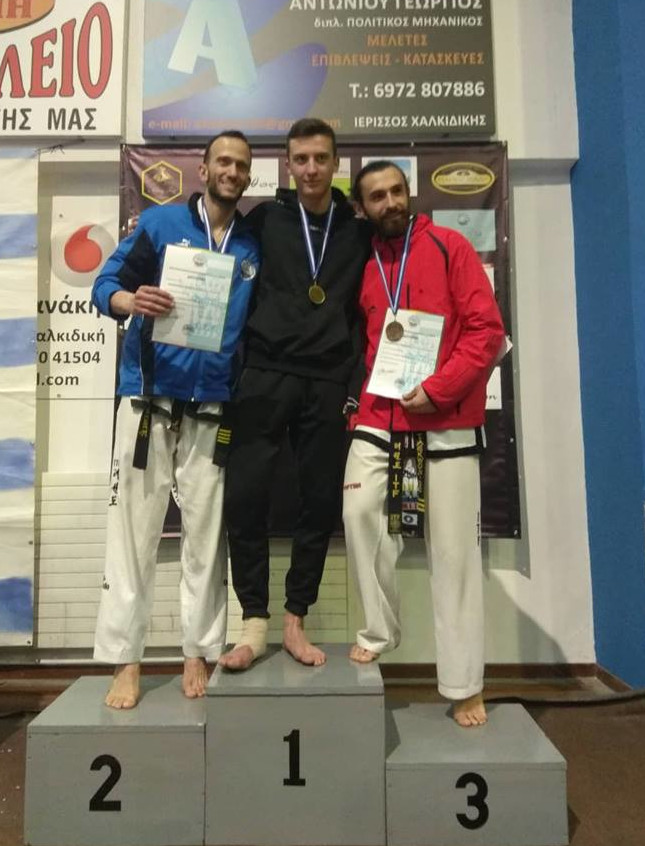 Individual Sparring Adult Male -52kg

1st Vasileiou Petros (A.G.C. Kallipoleos Tato)
2nd
3rd
Individual Sparring Adult Male -58kg
1st Bantis Achilleas (A.C. Proteas Ioanninon)
2nd Machairidis Theodoros (A.O. Evosmou Spartakos)
3rd Netkidis Konstantinos (A.C. Polichnis) & Matziaras Georgios (A.C. Meteoron)
Individual Sparring Adult Male -64kg
1st Kazantzidis Dimitrios (A.C. Neapolis Makedoniki Dynami)
2nd Eminov Ioannis (P.A.C.AN.A.TH. Machites)
3rd Kagiampinis Efstratios (Panathlitikos Athletiki Enosi Sykeon) & Psarras Alexandros (A.C. Meteoron)
Individual Sparring Adult Male -71kg
1st Karvounis Triantafyllos (A.C. Zeas)
2nd Galanis Emmanouil (A.C. Kalamarias)
3rd Bouzoukis Fotios (A.C. Asteras Dimou Mikras) & Roussos Konstantinos (A.G.C. Dynami Markopoulou)
Individual Sparring Adult Male -78kg
1st Beikos Georgios (A.C. Neapolis Makedoniki Dynami)
2nd Konstantinidis Kyriakos (A.G.C. Keratsiniou)
3rd Athanasiadis Panagiotis (A.C. Neapolis Makedoniki Dynami) & Bourdas Achilleas (A.C. Galatistas)
Individual Sparring Adult Male -85kg
1st Kalakidis Christos (A.C. Neapolis Makedoniki Dynami)
2nd Sidiropoulos Athinogenis (Panathlitikos Athletiki Enosi Sykeon)
3rd Kamekis Nikolaos (A.C. Kalamarias) & Raptis Dimitrios (G.A.C. Chon-Ji)
Individual Sparring Adult Male -92kg
1st Raptis Akrivos (G.A.C. Chon-Ji)
2nd Gialamas Ioannis (Α.Σ. Λευκός Πύργος)
3rd Angelakis Markos (A.G.C. Keratsiniou) & Bantis Stefanos (Panathlitikos Athletiki Enosi Sykeon)
Individual Sparring Adult Male +92kg
1st Salagkoudis Anastasios (A.C. Vasilikon Mars)
2nd Sgouramallis Pavlos (A.C. Nea Floga Polichnis)
3rd Ioannidis Ioannis (A.M.C. Aristotelis Kryas Vrysis) & Nasioudis Achilleas (A.C. Vasilikon Mars)
Individual Special Technique Adult Male
1st Chouftas Nikolaos (A.C. Atlas Thessalonikis)
2nd Markokonstantinos Andreas (A.G.C. Keratsiniou)
3rd Papathanasiou Athanasios (A.C.M.A. Kritiki Akadimia)
Individual Power Test Adult Male
1st Tersenidis Ioannis (A.C. Atlas Thessalonikis)
2nd Tsairelis Vasileios (Α.Σ. Ολυμπισμός)
3rd Λαζαρίδης Γεώργιος (Α.Σ. Ακροποτάμου Αξιός)
Source: Final Results